Tengah dok google resepi sarapan untuk kanak-kanak...
Paste kat sini jup coz tak jumpa pen kertas dan ms-word...adessss ms-word mungkin dah di delete oleh budak bertuah ni kot!!
1st link
Homemade Pancakes
Combine dry ingredients. Add milk, egg and oil. Mix until smooth. Cook on a preheated griddle.
Pudding Parfait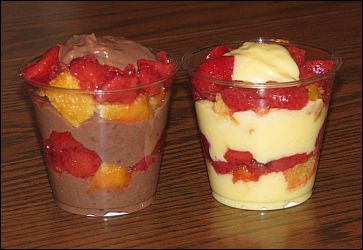 1 Pillsbury Moist Supreme yellow cake mix
1 cup water
1/3 cup vegetable oil
3 eggs
1 (4 serving size) chocolate or vanilla flavored instant pudding
2 cups milk
8 oz whipped cream
16 oz frozen strawberries
8 oz clear plastic cups
Bake cake according to package directions. Let cool. Cut into small cubes.
Make pudding according to package directions. Mix 4 oz. of the whipped cream into the pudding.
In the clear plastic cups, alternate layers of cake cubes, frozen strawberries and pudding. Top with whipped cream, if desired.
link 2
Blueberry Brain Boost Smoothie
Serving Size:
Makes about 2 1/2 cups (600 ml); serves 2
Ingredients:
1 cup (240 ml) fresh-pressed apple juice
1 fresh ripe banana
1 1/2 cups (170 g) frozen blueberries
1/2 cup (55 g) frozen raspberries
1/4 cup (30 g) raw walnuts, preferably soaked and drained
Method:
Combine the apple juice and banana in a blender. Add the blueberries, raspberries, and walnuts. Blend until smooth.
link 3
Breakfast Omelette
Ingredients:
2 teaspoons vegetable oil
4 bacon slices, chopped
1/2 red pepper, deseeded, chopped
6 eggs
1/4 cup finely grated cheddar cheese
1 tablespoon shredded basil
Toast, to serve
Method:
Heat the oil in a large non stick frying pan over medium heat.
Add the bacon and red pepper and cook, stirring, for 4 minutes or until the bacon is cooked.
Lightly beat eggs with salt and ground black pepper. Add to the pan and cook for 5 minutes or until just set.
Sprinkle with the cheddar cheese and basil. Cook for 1 minute, then cut into wedges and serve with toast.
Alang-alang dah publish boleh la korang pon try kann...kalau boleh nak masak cepat untuk sarapan sebab nak hantar anak-anak ke sekolah...
Later update and upgrade, awal tahun semua orang buzy...c u soon..